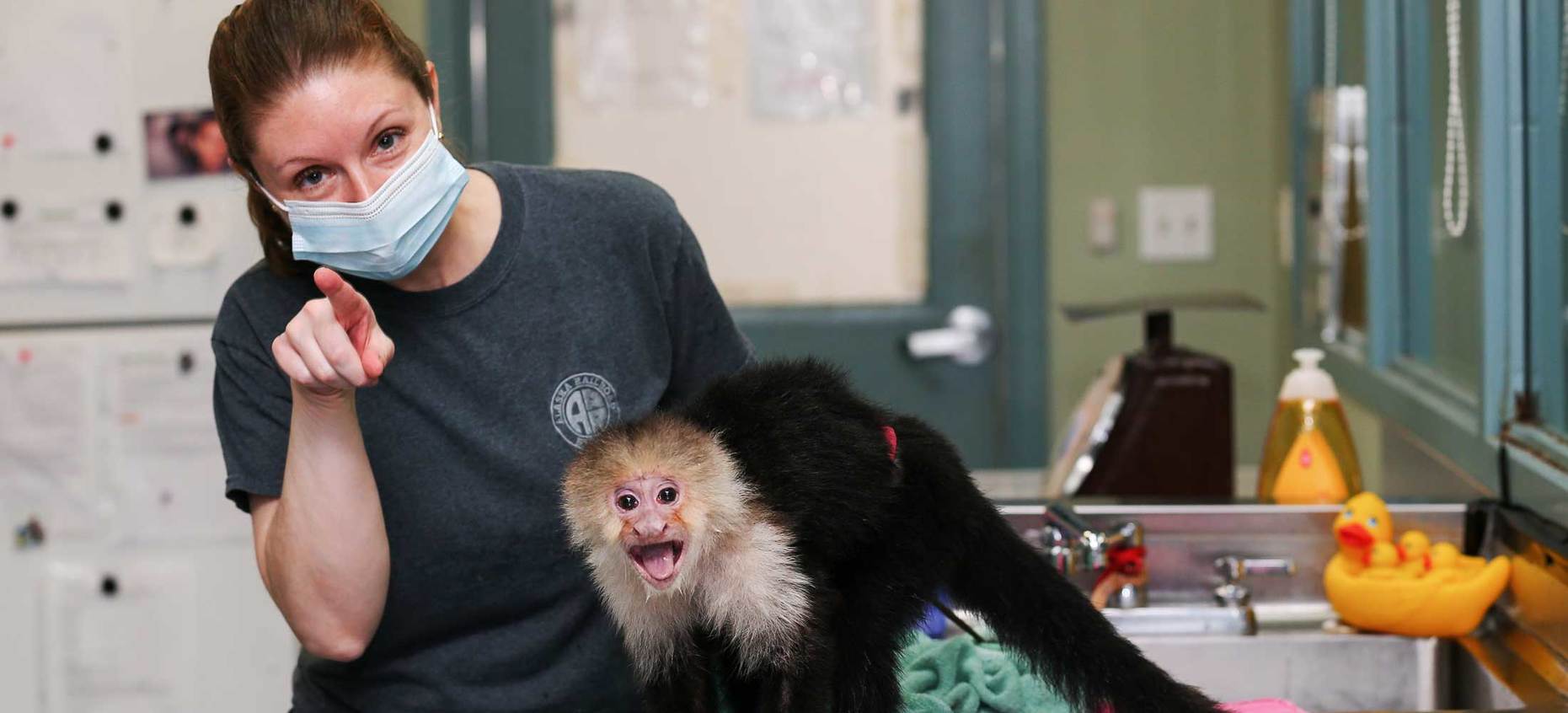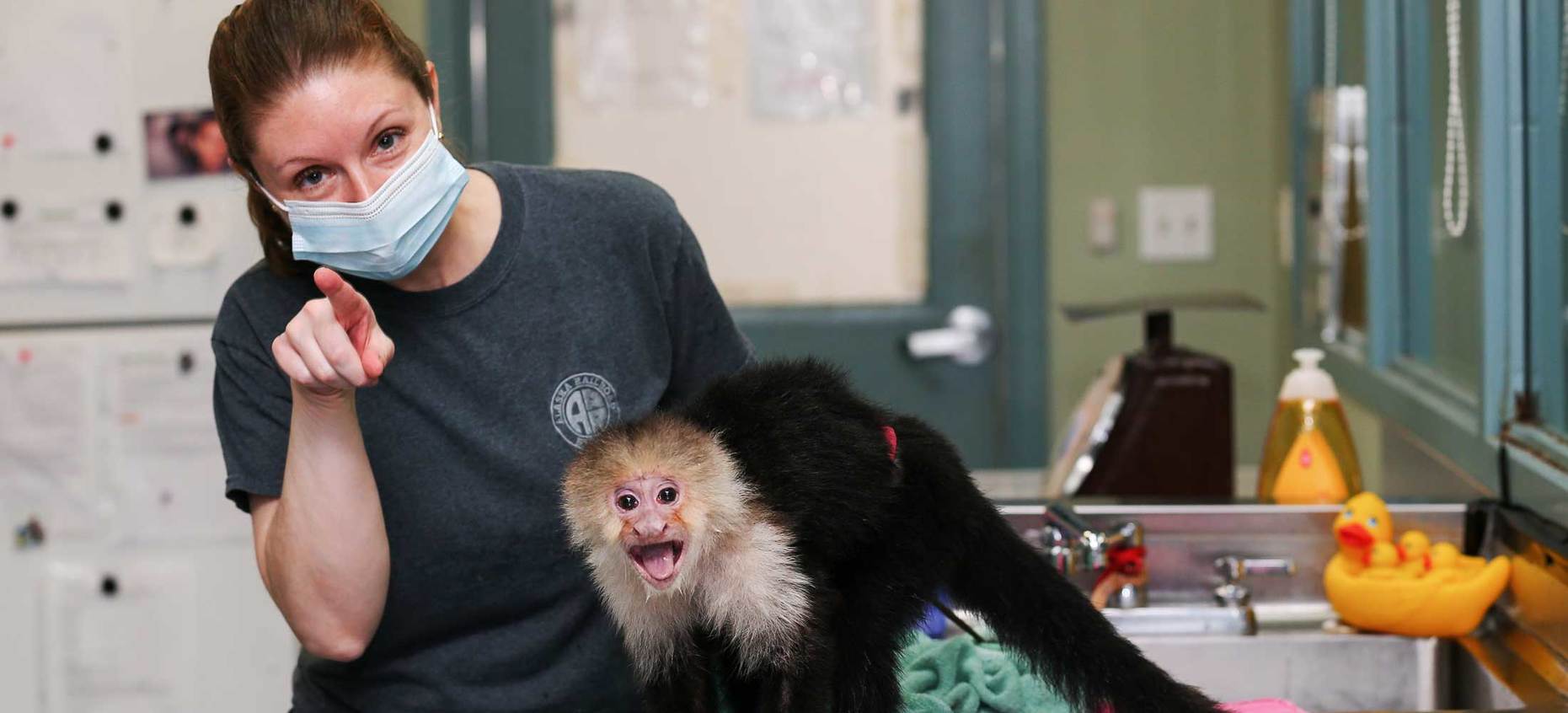 Your donation, no matter the size, to Envisioning Access links you to an organization that is dedicated to finding innovative solutions that will benefit those living with physical disabilities. Our Innovative Technology Initiative brings together recipients with universities and technology companies to find solutions that provide independence and empower lives. Your support is vital in implementing this work so our recipients can influence the new technologies coming onto the market that will most benefit their lives.
Your contribution also helps us to continue to care for our post-service capuchins living at our Monkey Living Center in Boston, those living in special care/foster homes as well as those still paired with recipients.
Envisioning Access is quite unique. Not only are we building for the future with our Innovative Technology Initiative, but we are dedicated to our legacy by continuing to care for our beloved post-service monkeys. Both our Innovative Technology Initiative and our post-service monkeys are focused on the same mission – envisioning access for all those living with a disability.
Please join us in providing access to all by selecting how you would like to support our mission.
There are many aspects to joining us in providing access for all. Here are some of our most common expenses and how your donation, regardless of size, can help:
• $25 provides monkey toys, blankets, stuffed animals, and/or a headset to enhance sound and connectivity
• $50 provides healthy monkey food and/or a smart speaker to function independently
• $150 provides monkey bath supplies and/or video conferencing program
• $250 supports technology upgrades at the Monkey Living Center and/or software to enhance accessibility
• $500 supports one monkey for one month at Monkey Living Center and/or virtual reality games
• $1,000 can help us with ongoing costs to maintain Monkey Living Center residences and/or supports a session between a recipient and scientist to test technology
• $3,000 can provide monkey housing/play spaces at the Monkey Living Center and/or one month of work between a  recipient and a scientist for the Innovative Technology Initiative
• $6,000 can provide three months of veterinary care for the monkeys at the Monkey Living Center and/or travel for a developer to work with Billy on THE BILLY PROJECT in Missouri.
The Monkey Living Center Wish List
Caring for all our monkey helpers is a big job and there are some supplies that are always needed. You can help us reduce program expenses by purchasing and sending some of our most needed items to the monkeys. To make it easy, we have created an Amazon Wishlist. Thank you for your support; we appreciate your generous donations of in-kind gifts!
Ship to address: Helping Hands: Monkey Helpers/Envisioning Access, 541 Cambridge Street, Boston, MA 02134. Please don't forget to include your name and address when shipping items from your home or Amazon.com so that we may acknowledge your gift.
Pro Bono Professional Services*
Professional framing & matting service
Photography services for events and other needs
*Please contact us regarding the donation of these items.
Gift Cards
You can also purchase gift cards to stores we use most often and have them sent directly to our office. Click on the logos below:
"In the case of Helping Hands, we (Foundation RobMar) are so excited to witness the transition from service monkeys to innovative technologies. This technology will enable Helping Hands to honour their founding mission of providing quality of life services to those who are living with disabilities. We are living in an age where robots and other advanced technology can provide opportunities for independence which will allow an individual to work, to attend school, to live their life on their own terms. I hope YOU will all join me and RobMar in continuing your support to the Helping Hands of the 21st century. A modern organisation that follows its goal by adapting its method to achieve it. Such an exciting evolution. Let us all be part of this new chapter."
– Marie-Christine Jaeger-Firmenich, President and Founder, Foundation Robmar
Our organization relies on private donations for its operating income. We do not receive any government money or insurance reimbursements for our service animals or technology. Employing a sound mix of development efforts, including special events, foundation grants, corporate partnerships, and individual giving, we currently operate with a $1.3 million budget that supports 7 full-time and 1 part-time staff members who oversee a wide range of programs. These include veterinary care, Special Care Homes, aftercare program, and the Innovative Technology Initiative.
We are grateful to all the generous individuals, foundations, and businesses that support our organization. Their partnership with us deeply enriches and enhances the lives of people living with physical disabilities. We take the donations entrusted to us very seriously. Below, please find the last few years of our Annual Report, our 990, and our audited financials.
State Fundraising Disclosure Statements
A copy of the latest financial report, registration filed by this organization, and a description of our programs and activities may be obtained by contacting us at Envisioning Access/Helping Hands: Monkey Helpers, 541 Cambridge Street, Boston, MA 02134, 617-787-4419. If you are a resident of one of the following states, you may obtain financial information directly from the state agency.
Colorado: Colorado residents may obtain copies of registration and financial documents from the office of the Secretary of State, 303-894-2860, www.sos.state.co.us
Reg. No. 20153043185
Florida: A COPY OF THE OFFICIAL REGISTRATION AND FINANCIAL INFORMATION MAY BE OBTAINED FROM THE DIVISION OF CONSUMER SERVICES BY CALLING TOLL-FREE 1-800-HELP-FLA OR ONLINE AT www.FloridaConsumerHelp.com. REGISTRATION DOES NOT IMPLY ENDORSEMENT, APPROVAL, OR RECOMMENDATION BY THE STATE. Florida Registration #CH47142
Georgia: A full and fair description of our programs and our financial statement summary is available upon request at our office and phone number indicated.
Illinois: Contracts and reports regarding Envisioning Access/Helping Hands: Monkey Helpers are on file with the Illinois Attorney General.
Maryland: For the cost of copies and postage, from the Office of the Secretary of State, State House, Annapolis, MD 21401.
Michigan: MICS #21022
Mississippi: The official registration and financial information of Envisioning Access/Helping Hands: Monkey Helpers may be obtained from the Mississippi Secretary of State's office by calling 888-236-6167. Registration by the Secretary of State does not imply endorsement.
New Jersey: INFORMATION FILED WITH THE ATTORNEY GENERAL CONCERNING THIS CHARITABLE SOLICITATION AND THE PERCENTAGE OF CONTRIBUTIONS RECEIVED BY THE CHARITY DURING THE LAST REPORTING PERIOD THAT WERE DEDICATED TO THE CHARITABLE PURPOSE MAY BE OBTAINED FROM THE ATTORNEY GENERAL OF THE STATE OF NEW JERSEY BY CALLING 973-504-6215 AND IS AVAILABLE ON THE INTERNET AT: http://www.state.nj.us/
lps/ca/charfrm.htm.
REGISTRATION WITH THE ATTORNEY GENERAL DOES NOT IMPLY ENDORSEMENT.
New York: Upon Request, Attorney General Charities Bureau, 102 Broadway, New York, NY 10271.
North Carolina: Financial information about this organization and a copy of its license are available from the State Solicitation Licensing Branch at 919-814-5400. This license is not an endorsement by the state.
Oregon: Any written or oral statement made in connection with a solicitation of contributions that the person or organization conducting the solicitation is registered or has filed, will file or is required to file any report with the Attorney General, or any statement of similar import, shall be immediately followed by a statement of equal prominence that such registration or report in no way constitutes or implies any indorsement, sanction or approval of the solicitation, its purposes, the manner in which it is conducted or the person or organization conducting it, by the Attorney General or any other governmental agency or officer. (O.R.S. § 128.891)0
Pennsylvania: The official registration and financial information of Envisioning Access/Helping Hands: Monkey Helpers may be obtained from the Pennsylvania Department of State by calling toll-free within Pennsylvania 800-732-0999. Registration does not imply endorsement.
Virginia: State Division of Consumer Affairs, Department of Agriculture and Consumer Services, PO Box 1163, Richmond, VA 23218.
Washington: The notice of solicitation required by the Charitable Solicitation Act is on file with the Washington Secretary of State, and information relating to financial affairs of Envisioning Access/Helping Hands: Monkey Helpers is available from the Secretary of State, and the toll-free number for Washington residents: 1-800-332-4483.
West Virginia: West Virginia residents may obtain a summary of the registration and financial documents from the Secretary of State, State Capitol, Charleston, WV 25305
Registration with a state agency does not constitute or imply endorsement, approval, or recommendation by that state.