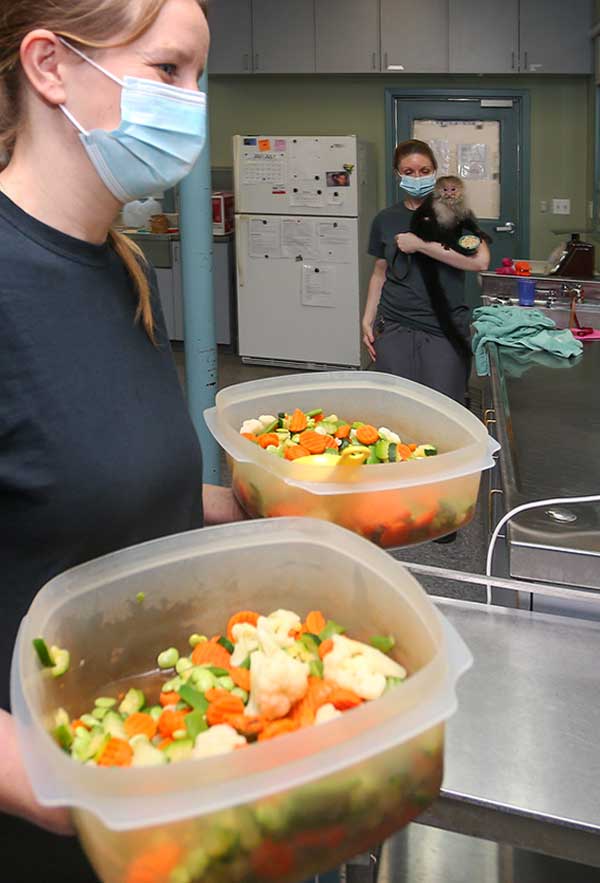 "I am uplifted by how smart she is in her ability to constantly keep me on my toes. Kasey watches everything and learns everything and remembers everything. I recognize her intelligence and am thankful for her. It takes two to tango and we have been dance partners for over ten years, now."
   – Ned, Monkey Helper Recipient about the Monkey Living Center
Since 1979, Helping Hands: Monkey Helpers for the Disabled, Inc. has been helping adults with spinal cord injuries and other mobility impairments throughout the US live more independent and engaged lives. We did this by providing them, free of charge, with a unique service animal: a highly trained service monkey to help with their daily tasks. These animals have brought more than just a willing set of nimble hands to their recipients. They have also brought companionship, joy, and the renewed sense of purpose that comes from taking responsibility for the health and well-being of another creature. Our work encompasses all aspects of this service:
• We raised, trained, and matched the monkeys with carefully chosen recipients.
• We provided extensive coaching and customized in-home training at the start of each placement.
• We oversaw each monkey's lifelong behavioral, nutritional, and medical needs.
• We have provided ongoing active support and mentoring for every partnership.
• We have placed post-service monkeys in loving Special Care Homes where they are well cared for.
We have created the Monkey Living Center in Boston, Massachusetts, to care for all the post-service monkeys who have cared for so many.
Creating a Healthy, Happy Environment
For over 40 years, the capuchin monkeys at Helping Hands: Monkey Helpers provided independence, love, and companionship to over two hundred people with severe mobility limiting conditions. As the monkeys returned from service, we realized that we needed a safe, nurturing, and age-appropriate environment where they would be loved and cared for in their post-service years. With that knowledge, we adapted The Monkey College into the Monkey Living Center.
The Monkey Living Center provides climbing structures and activities that have been designed with an aging population of capuchins in mind. It is a place where our older monkeys and our monkeys with special medical needs are welcomed and protected. It's a place where they can play with their friends and make ones! Somewhere they can find a sunbeam to nap in, or a lap to cuddle in; a place that all our monkeys can call home.
You help us care for the monkeys who have cared for so many during their lives!